World's Hottest Luxury Real Estate: Canada Tops World On High-End House Price Growth
Canada's luxury property markets have become the world's hottest as foreign investors take advantage of a lower loonie to snap up even more properties than before, says a new report from a commercial property agency.
Knight Frank's latest world wealth report found "prime" property prices in Canada are rising at a rate that's four to 14 times faster than the average in the rest of the world.
Vancouver tops the list of the world's hottest luxury property markets, with prices for luxury properties rising 24.5 per cent in a year. Toronto came in at 12th place, with an 8-per-cent hike in prime property prices.
"A lack of supply, coupled with foreign demand, spurred on by a weaker Canadian dollar explain [Vancouver's] stellar performance," the report said.
Knight Frank defines "prime property" as generally being the top 5 per cent of a housing market.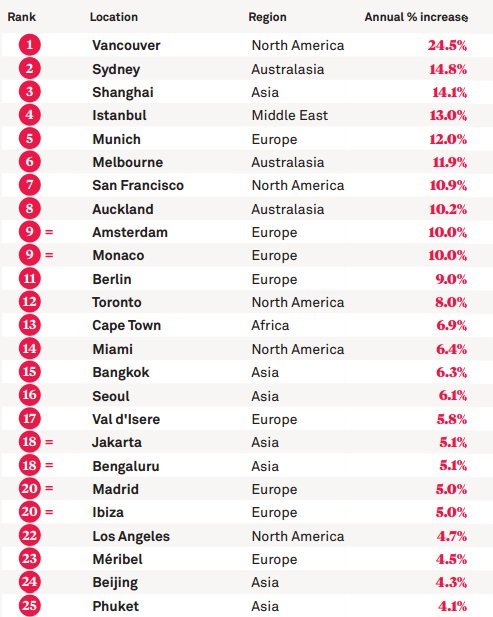 By comparison, the overall average rise in luxury home prices was 1.8 per cent last year, Knight Frank said. New York City saw prices rise 2.8 per cent, while London saw only 1 per cent growth in prices.
However, London has been hit by "a raft of new property taxes, many of which were aimed at foreign buyers," Knight Frank said.
As in London, in Canada the issue of foreign investors buying luxury properties has come to the forefront. Toronto and Vancouver have seen massive house price hikes over the past year, prompting some to consider the possibility of restricting foreign ownership of homes.
A survey released last month found two-thirds of respondents want the government to intervene in the market, to cool house price growth.
RBC's latest housing affordability index warned that prices in Toronto and Vancouver — though not elsewhere in Canada — are reaching "dangerously unaffordable" levels.
The report noted that single-family home prices are rising much faster than condo prices, and single-family homes could soon be the luxury segment of the housing market in these two cities.
"Any further deterioration in the affordability of single-detached homes would entrench these segments as 'luxury' forms of housing in Vancouver and Toronto, available only to wealthy households," RBC said.
What $5 Million Will Buy You Across Canada
This five-bedroom, five-bath house in Montreal's ritiziest neighbourhood has a large (almost 19,000-square-foot) lot featuring an amazing rock formation that makes the back yard entirely unique. The realtor boasts of spectacular views of the city as well. Listing.

This house in Coyote Valley, northwest of Calgary, features five bedrooms and three full baths in more than 6,000 square feet of living space. The property features an exercise room, a rec room and a media area, as well as a four-car garage. Listing.

This two-bedroom, two-bath condo in Coal Harbour features a 221-square-foot patio on the lower level and a master-bedroom balcony on the upper level. Which is helpful, because the views are not to be missed. Listing.

This four-bedroom, four-bath property sits in one of Canada's ritziest urban neighbourhoods and features a "smart home" automation system and an elevator. And the view from bedroom windows is of trees, which is sort of incredible for downtown Toronto. Listing.

This 9,200-square-foot house in the Greater Toronto suburb of Oakville was built around 1888, and features seven bedrooms and nine baths, and no fewer than six fireplaces. The realtor says the home was recently entirely renovated. Listing.

This 20-acre private island in swanky Lake of Bays, some 200 km north of Toronto, features five separate summer cottages and a three-bedroom boathouse, with parking for five boats. Great place for an extended family -- a rich extended family. Listing.

The realtor's boast that this is "one of the most beautiful waterfront settings on the Continental Eastern Seaboard" was a little difficult for us to verify, but it sounds good. Five bedrooms and seven baths in this 12,000-square-foot house that also features a library, a gym and a "hidden wine cellar." Listing.